10th Workshop, Barcelona: "EURORDIS Strategy 2010-2015 and Partnership with the ERTC Members"
---
10th Workshop of the Eurordis Round Table of Companies:
"EURORDIS Strategy 2010-2015 and Partnership with the ERTC Members"
June 19th, 2009
Barcelona, Spain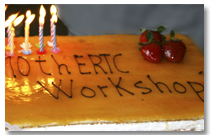 To mark the 10th anniversary of the ERTC Workshops, this meeting focussed on the EURORDIS' vision for the future, a vision shared by the US National Organisation for Rare Disorders (NORD) with whom a close collaboration is being implemented to coordinate efforts at a global level. This strategy will benefit the development of orphan drugs and will have a direct positive impact on the lives of patients living with a rare disease, in the two continents and beyond. This workshop was also the opportunity to take stock of five years of fruitful partnership with the pharmaceutical companies supporting EURORDIS via the ERTC.
Participants: 50
Key feature: for the first time, participation from Peter Saltonstall, the newly appointed CEO of NORD, symbolised the start of an official collaboration between the two rare disease organisations. In the afternoon, the breakout sessions facilitated discussions on ways for industry of collaborating with EURORDIS on different specific actions.
Proceedings

For ERTC Members only, this document is password protected. If you want to become a member, find out more here or contact Anne-Mary Bodin, Operations Assistant.

 

Marzo 2013