2023 Black Pearl Awards: Celebrating another year of action and advances for the rare disease community
January 2023
---

The past 12 months have been yet another highly active period for Europe's rare disease community.
Our collective response to the invasion of Ukraine was swift, helping those in the country who began facing a series of new challenges on top of those already associated with having a rare condition.
Patient advocates continued to support and champion the linking-up of clinical experts and expertise across borders.
Scientists continued to make sure that promising advancements in medical science were translating to the improved health and wellbeing rare disease patients.
We, as a community, have achieved a great deal, across a wide breadth of areas.
Our next annual EURORDIS Black Pearl Awards – taking place on Tuesday 21 February 2023 in Brussels – will celebrate a number of the individuals and organisations responsible for such achievements.
Register to attend the 2023 EURORDIS Black Pearl Awards by Monday 6 February!
Responding to the invasion of Ukraine
Almost a year into the full-fledged war, Ukrainians living with a rare disease still need our support as much as ever as the humanitarian consequences of the invasion grow and become more complex.

Anastasiia Saliuk, Senior Project Manager for the Ukraine Response, EURORDIS
An estimated two million people were living with a rare disease in Ukraine when the country was invaded. Since then, the war has only compounded the difficulties faced by Ukrainians living with a rare disease (ULWRD).
Since the onset of the war, ULWRD have experienced a lack of basic amenities, such as power and water, and many saw their hospitals and other points of access to healthcare bombed. EURORDIS has continued assisting the relocation of ULWRDs upon their arrival in neighbouring countries, working with local Ukrainian patient groups and partners, and calling for European policymakers to take action where they could provide support to ULWRD. Our partnership with Airbnb helped more than 300 families gain access to short-term accommodation in safe locations across Europe.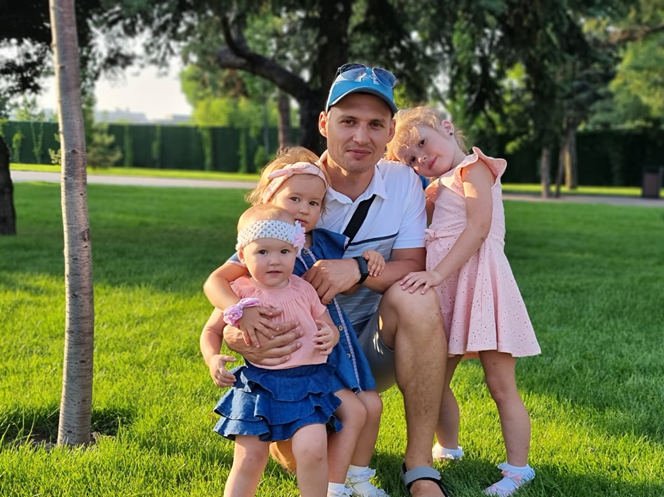 But this work would have been impossible without the eager assistance of locals on the ground, and many other important initiatives were launched across Ukraine and our Europe-wide community.
This year's EURORDIS Membership Award went to Orphan Diseases of Ukraine. This patient organisation has been passionately advocating for ULWRD since 2014 but upon the outbreak of war, they began coordinating vital donations of medication and aid to ULWRD. Despite the challenging circumstances, the organisation has continued its advocacy activities, forcefully lobbying for greater recognition of rare diseases in national policymaking.
Lawyer and patient advocate Adrian Goretzki, the winner of this year's EURORDIS Young Patient Advocate Award, used his experience and contacts in Poland to help both refugees with a rare disease and those who remained in Ukraine. Supported by his colleagues at the Healthcare Education Institute, Adrian led efforts to facilitate Ukrainian rare disease patients' access to healthcare, shelter, and essential treatments on the Polish side of the border.
Promoting expert collaboration across Europe
European Reference Networks are an engine of change and innovation to improve healthcare for people living with a rare disease in Europe and beyond.

Inés Hernando, ERN and Healthcare Director, EURORDIS
Since their launch in 2017, European Reference Networks (ERNs) have been virtually connecting experts on specific rare conditions across Europe, tackling disparities across the continent in access to specialised care, and enabling clinical expertise to travel and be shared across national borders more easily.
A number of this year's Black Pearl awardees have been actively involved in advancing the work of ERNs and upholding their mission.
The winner of this year's EURORDIS Leadership Award went to Dr Holm Graessner for his lifelong dedication to the rare disease community and his coordination of countless projects at the national, European and international level. He has coordinated the ERN for rare neurological diseases (ERN-RND) since he initiated the network in 2018.
Dr Graessner also initiated and began coordinating Solve-RD in 2018 – a European Commission-funded research project – which has been aiming to solve large numbers of rare diseases for which a molecular cause is not known and to improve diagnostics through the development of a "genetic knowledge web" based on shared knowledge about genes, genomic variants and phenotypes. Crucially, Solve-RD fully integrates and reaches out to patient cohorts across all 24 ERNs.
This year's EURORDIS Volunteer Award recognises the work of Michela Onali – a patient advocate who has undertaken tremendous work for the rare disease community, and particularly those living with an ultra-rare disease. Since her own diagnosis with GNE myopathy, Michela has focused her advocacy work on research and drug development for rare diseases for which information is limited.
In 2022, Michela became Stakeholder Manager at MetabERN – the ERN for hereditary metabolic disorders. Through her work, Michela has enabled more patients to be involved in research, drug development and decision-making processes as well as guiding them on how to access information regarding their disease.
Centring patients in research and decision-making
Time and again, centring patient interests has proven itself to be not just effective, but crucial.
This year's EURORDIS Scientific Award Winner has been given to Dr Luisa-María Botella Cubells, who has always appreciated this truth and centralised her patients' voices throughout her 20 years of experience in rare disease research. Over the past two decades, her work has resulted in the European Medicines Agency (EMA) awarding four orphan drug designations– three for Hereditary Hemorrhagic Telangiectasia (HHT) and one for von Hippel Lindau disease (VHL) – as well as two licensed patents for therapy in VHL and glioblastoma.
Dr Botella's award celebrates the enormous impact that her research has had on many patients' lives, and the manner in which she has consistently sought and embraced the patient voice in her research.
Attend the Black Pearl Awards 2023
The past year may have been fraught with new challenges, especially resulting from the humanitarian and political consequences of the war in Ukraine, but our community responded accordingly and achieved many milestones despite them.
The 2023 Black Pearl Awards will celebrate many more awardees than those whose brilliant work has been detailed in this article, and the EURORDIS Photo Award remains up for grabs and open to new submissions.
The 2023 ceremony will be held both online and in-person, but tickets are selling fast! Make sure to book your spot by 6 February, and join us in our show of appreciation for those at the forefront of creating a better world for those living with a rare disease!
---
Rhiannon Walls, Communications Junior Manager