Men's Mental Health and Rare Diseases
August 2023
---
EURORDIS is a non-governmental patient-driven alliance of patient organisations representing 1,000 rare disease patient organisations in 74 countries. Hearing directly from our member organisations is an essential aspect of understanding the different realities of life with a rare disease across Europe.
We recognise the value of learning from shared experience to build a strong pan-European community of patient organisations and people living with rare diseases.
---
I started MRDMH (Men's Rare Disease Mental Health) three years ago with the purpose of providing men with a space to connect, share experiences, and talk about their mental health. I felt that a group like this was needed because when I was diagnosed six years ago, I quickly became aware of more than a few men suffering in silence, feeling afraid or unable to speak out.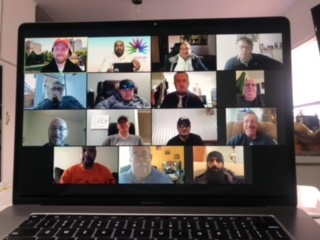 The meetings I decided to set up are held on Zoom every last Sunday of the month, for an hour. We have had meetings with just two people, and others with 23 people, such as the one held on Rare Disease Day last 28 February. People have attended from around the world, from South America, North America, Europe, Africa, New Zealand, and Asia.
During our meetings, we engage in discussions about various open topics and also host speakers on occasion. Our conversations encompass a wide range of topics, including rare relationships, shame, bereavement, being a rare parent, and the psychological impact of a rare disease.
Our conversation topics encompass a wide range, including subjects like unique relationships, feelings of shame, experiences of bereavement, challenges of being a rare parent, and the psychological impact of rare diseases.
It's a chance for me to discuss matters with other people who have an idea as to what's happening in our lives.

Jim Freely, Regular group member
I feel the group is needed because we are all on a mental health continuum which ranges from being able to cope, enjoy, and function in life, to being in a position where you are struggling to manage life and, in some cases, being diagnosed with a mental health condition. I think this is particularly important to understand for rare disease patients and caregivers as a diagnosed mental health comorbidity exacerbates existing challenges to your mental health such as fatigue, anxiety, feeling withdrawn, or anger.
This mental health group helped me understand the direct connection between rare disease and mental health issues and also the impact on patients and caregivers. This group helped me overcome many mental health challenges by providing a forum to share and seek advice from the people who are qualified to understand my situation.

Atif Qureshi, Regular group member
On the surface, it might seem like an exclusionary initiative but this is definitely not the case.
In today's society, men often struggle to find a safe space to discuss their weaknesses, especially their emotional challenges. In this group, men can share their experiences without judgement and, very often, we not only share but also help each other. It is this acceptance and openness which I find the most important. Men of all ages, ethnicities, and with different types of problems, come together to help one another, so that we can all go back into our daily lives in a better position to help the rare disease community and society at large. I hope that this initiative will not only continue but that it will also gain a growing resonance in various communities.
From the first time I joined this group, I realised not only that it was right for me, but also that it was a winning idea, something that was missing.

We are used to dividing support groups according to the pathology of those attending, but no one had ever thought that the way one experiences a serious and rare disease could vary according to the gender one belongs to.

Stefano Pavanello, Regular group member
This year the group has become an affiliated member of EURORDIS and have applied to join the EURORDIS Mental Health Partnership Network, which I think will further support our community.
---
David Ross, Men's Mental Health Rare Disease Support
Disclaimer: the opinions – including possible policy recommendations – expressed in this article are those of the author and do not necessarily represent the views or opinions of EURORDIS. The publication of this article on the EURORDIS website does not equate to endorsement.
---
Learn more about the work EURORDIS is doing to improve the mental wellbeing of people living with rare diseases.