A look at #EMM2023: Exchanging views and ideas for a better future
April 2023
---

The 2023 EURORDIS Membership Meeting taking place on 25-27 May in Stockholm will bring together people from across Europe's rare disease community.
EMM2023 will offer our members the chance to connect and discuss crucial good practices and policies affecting our community, and which are necessary to achieve the ambition of holistic lifelong care, optimise the use of health data, and improve rare disease patients' mental wellbeing.
Attendees will gather for interactive discussions led by our expert speakers, exploring the potential impact of these good practices and policies.
Achieving lifelong holistic care
A person who has a rare disease is never only that. That person is a patient, in relation to the health care system. And in all other areas of life, the person is a person with the right to be fully included in society when it comes to education, employment, and social relations. We need holistic and lifelong approaches that integrate all aspects of our life, of the person with a rare disease and their family members.

– Maria Montefusco, Vice-President, EURORDIS-Rare Diseases Europe
Across the EU, some steps have been initiated in bolstering integrated care provision for rare diseases, but there are still many challenges to address as we strive towards a European Action Plan for Rare Diseases. Both EURORDIS' Rare 2030 and Rare Barometer surveys have identified key priorities across specific stages of life.
The headline EMM2023 Plenary – taking place on Friday 26 May – will address lifelong holistic approaches to supporting those with a rare disease. During the Plenary, speakers from across Europe, including EURORDIS President Avril Daly and Vice-President Maria Montefusco, will discuss the progress achieved and the challenges ahead to ensure that people living with a rare disease and their families can live better lives in a society that leaves no one behind.
This event will be particularly pertinent in light of the fact that 85% of people living with a rare disease and their family members report that the rare disease impacts several aspects of their health and everyday life.
In addition to the Plenary session, EMM2023 will host four workshops delving into the challenges and opportunities of living with a rare disease throughout every phase of life. These interactive workshops will cover good practices and support programmes for parents, children, adolescents and adults with a rare disease. Discussion topics will include early diagnosis, youth programmes, transition from childhood to adulthood, independent living support, and how to map the needs of those ageing with a rare disease.
EMM2023 will continue to focus on shedding light on important holistic care topics, through a series of networking sessions, including one session on the actions that have an impact at national level and one session on the barriers faced by people living with a rare disease and visible or invisible disability.
Optimising health data
All medical advancement history is based on the availability of the 'right' data, so by harnessing health data, patient groups are not only having a positive influence over how health systems are organised but also the knowledge on their conditions.

– Jelena Malinina, Data Director, EURORDIS-Rare Diseases Europe
The European Commission recently proposed the implementation of a European Health Data Space (EHDS), which would improve how health data is use and shared, and empower individuals to access their data on a national and EU-wide level. The EHDS presents a major opportunity for Europe to unlock the potential of health data.
As noted in our EHDS position paper, 95% of people living with a rare disease are willing to share their health data to help foster research. Our community is patently keen to ensure that their healthcare and the care of others is enhanced by improved data-sharing systems.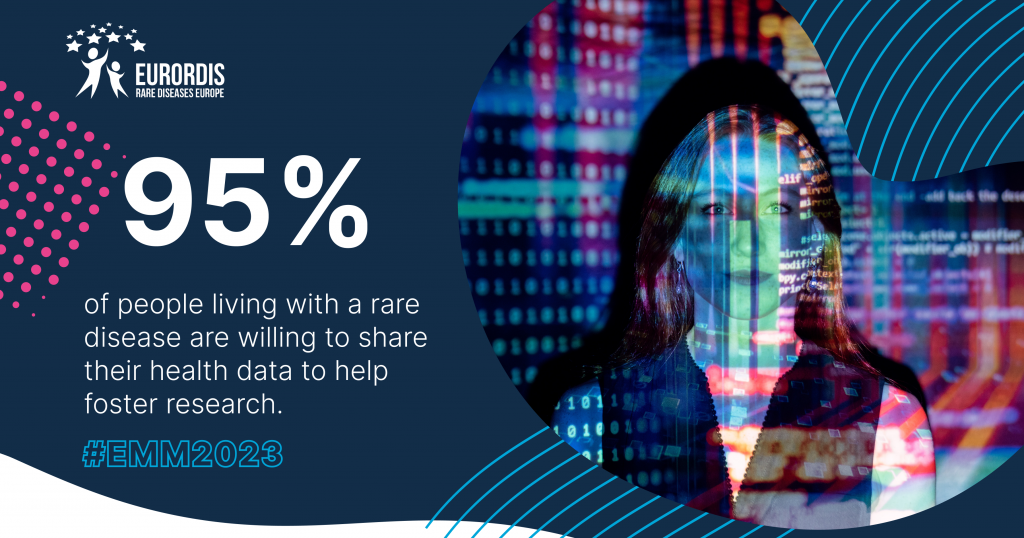 We have therefore been calling on EU legislators to ensure that this system, which concerns the transmission of sensitive data, is secure and integrates the rights and interests of people living with a rare disease.
At EMM2023, Jelena Malinina, our Data Director, is leading training on digital safety and literacy. This workshop will provide guidance on the simple ways in which everyone can enhance their privacy and security in the context of this shift towards healthcare digitalisation.
Supporting mental wellbeing
The impact that living with a rare disease has on mental health and wellbeing is all too often unrecognised, underreported and underserved for too many in our community. Challenges like lengthy diagnostic journeys and a lack of available treatments exert their own strains on mental health. An EU Action Plan on Mental Health must respond to the specific needs of people from our rare disease community that are unique and intrinsically linked to the rarity.

– Matt Bolz-Johnson, Mental Health Lead and Healthcare Advisor, EURORDIS-Rare Diseases Europe
This June, the European Commission will be presenting its Comprehensive Approach to Mental Health. The approach will come at a crucial time, as unprecedented demand for psychosocial support continues to overwhelm many of Europe's health services following the peaks of the COVID-19 pandemic.
Given the particular challenges to mental health and wellbeing faced by those who live with a rare condition, it is important that the Commission's upcoming approach dedicates attention to the needs of communities with increased vulnerability, as is the case for the rare disease community.
For those with a rare disease, mental health and wellbeing challenges commonly arise affecting both the individual and the whole family. Many rare diseases have an associated comorbidity for which support can often be fragmented and insufficient, or the accumulation of stressors associated with the rarity of their diseases, creating a greater psychological impact for both the family and the community as a whole.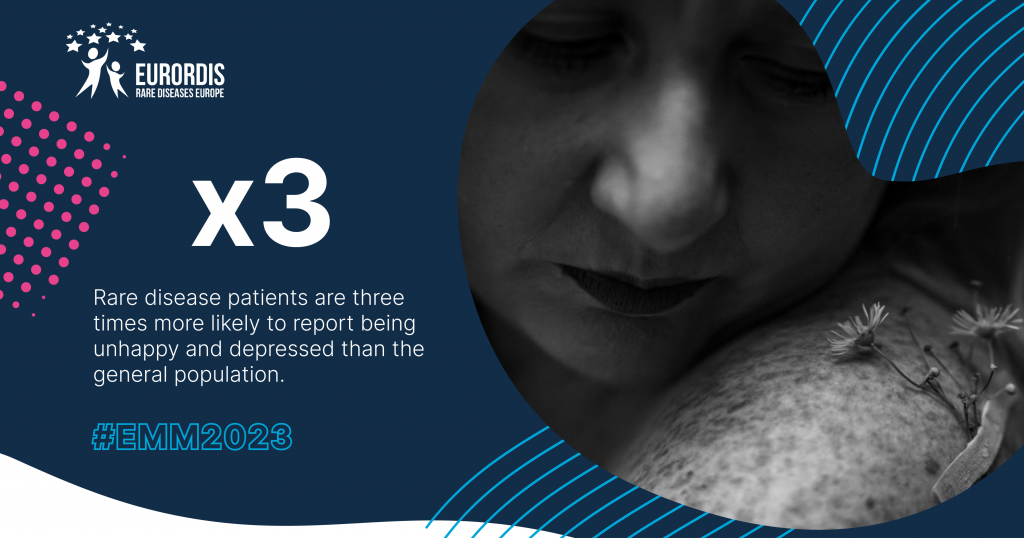 Specific and unique stressors experienced from the rare disease journey include delayed diagnoses, uncertainty about the future, and absences of adequate treatments. These present just some of the reasons why rare disease patients are three times more likely to report being unhappy and depressed than the general population.
At EMM2023, Matt Bolz-Johnson, our Mental Health Lead & Healthcare Advisor, will be running a workshop on Enhancing Mental Wellbeing in the Rare Disease Community. This workshop will be an official event as part of European Mental Health Week, and will present an opportunity for the experiences of rare disease advocates to be centred in dialogues on the future European mental health policy.
Join us in Stockholm this May!
By coming together, growing closer as a community, and by exchanging our varied experiences, viewpoints and expertise, we can build a vision towards a better future. EMM2023 will provide these opportunities to our members and patient organisations.
Would you be interested in joining us in Stockholm from Thursday 25 to Saturday 27 May? Make sure you don't miss the opportunity to register!
---
Madison James, Communications Intern