UN Resolution is adopted: what does it mean for Europe?
Dezember 2021
---
First-ever UN Resolution on persons with rare diseases paves the way for Europe's Action Plan for Rare Diseases
"If there is only one patient suffering from a disease that still means we all are suffering from it. Let's invest in understanding ourselves better and beat rare diseases." – Max, Netherlands
On the 16th of December, the United Nations General Assembly adopted the first-ever Resolution on 'Addressing the challenges of persons living with a rare disease and their families.' This milestone is a manifestation of the genuine wish of the 300 million people living with a rare disease globally to be recognised, and a formal commitment of the 193 UN Member States, including the 27 European Union Member States, to support rare disease policies to promote and protect the rights of everyone living with a rare disease and their families.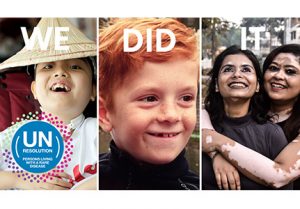 Notably, the European Union Member States, all of which voted in favour of the Resolution and with 11 acting as co-sponsors, have acknowledged the existing barriers and challenges the 30 million people living with a rare disease in Europe face in their daily life and expressed their political determination and firm commitment to continue to:
strengthen health systems to provide universal access to a wide range of high-quality, accessible, available and affordable health care;
empower people living with a rare disease and address their physical and mental health needs to realise their human rights, enhance health equity and equality, end discrimination and stigma, and create a more inclusive society;
ensure people with rare diseases have access to quality essential health products as well as safe and effective medicines and health technologies;
foster the creation of networks of experts and multidisciplinary specialised expert hubs for rare diseases – an issue that has already been recognised by the European Union with the establishment of the European Reference Networks;
design and implement national policies, strategies and programmes to share experiences and best practices with the aim of contributing to the well-being and fulfilling the rights of all people living with a rare disease;
increase support for research, by strengthening international collaboration and coordination of research efforts and the sharing of data, while respecting its protection and privacy.
A giant leap forward towards the adoption of Europe's Action Plan for Rare Diseases
Prior to the UN Resolution on the challenges of people with rare diseases, in the debate at the European Parliament on 24 November, Stella Kyriakides, EU Commissioner for Health and Food Safety, emphasised "the need for us to all work together" and committed to continue to "make concrete and tangible improvements and changes to the lives of rare disease patients and their families."
By adopting the UN Resolution, the EU Member States have once again reaffirmed the need for immediate collective European policy action to ensure that the future of the rare disease patient community is not left to luck or chance by 2030. Europe's Action Plan for Rare Diseases, an innovative, future-proof and holistic policy framework for rare diseases proposed by EURORDIS-Rare Diseases Europe, is a true reflection of this commitment made by the Member States at the United Nations General Assembly on 16 December.
"No one should be left without help. Isolation from people, lack of medical care and architectural barriers are already enough evidence to feel excluded from life." – Ewa, Poland
The Action Plan represents the first and most comprehensive step towards reforming health care systems across the EU with all the required steps, deliverables and measurable goals to bring Member States' commitment to rare diseases under a common umbrella and mark a step forward in the post-COVID world.
In practice, it would guide the implementation of person-centred and gender-sensitive national plans and strategies for rare diseases – a measure also called for in the UN Resolution – with the same measurable objectives. It would also bring together a refreshed concerted strategy across research, digital, healthcare, social welfare, complementing existing legislation and encourage continued investment in the field of rare diseases at both the European and national levels to ensure we do not lose momentum – in other words, contribute to a stronger, person-centred and needs-led European Health Union.
"Every patient has the right to a better quality of life, and the lives of those with rare diseases are also important. It would be good if decision-makers also pay attention to their health. Every life is valuable."–Tunde, Hungary
We call upon the European Commission to support Member States' efforts to improve the lives of all Europeans living with a rare disease and help fulfil their commitments related to the adopted Resolution the 2030 UN Agenda by putting forward a European Action Plan for Rare Diseases and putting it higher on the EU's political agenda.
---
Stanislav Ostapenko, Communications Manager, EURORDIS