Who has gone the extra mile for the rare disease community during the COVID-19 pandemic?
September 2020
---
2020 has been an unprecedented year full of challenges for us all. The COVID-19 pandemic has highlighted the vulnerability of people living with a rare disease.
The challenges that our community is well used to facing – a lack of access to healthcare, medicines and testing, and a sense of isolation, among others – have become the norm around the entire globe. We have all been affected – our professional and personal lives, our children's education.
Our healthcare systems have been stretched to their limits and beyond. Some would say the limits of humanity have been pushed to the edge. Politicians have responded with varying degrees of compassion. Some have stepped up and provided leadership in times when people were not sure what to do or where to turn.
But even in the face of fear, stress and sadness, there have been millions of moments of compassion and hope around the world, created thanks to the people working tirelessly in our patient organisations, hospitals, healthcare centres, governments, local communities, healthcare companies and more.
Now is the time to recognise those individuals and organisations that have gone the extra mile for the rare disease community, both prior to or during the pandemic.
Their commitment is exemplary and for that we thank them.
Nominate them or enter yourself for a EURORDIS Black Pearl Award by the end of September
You can shine a light on their or your own work by making a nomination for a EURORDIS Black Pearl Award 2021 in one of 13 categories by the deadline of the end of September.
Nominations are welcome from anywhere in the world!
It only take a few minutes to make a nomination and can mean the world to someone who has made a commitment to improve the life of somebody affected by a rare disease.
Maybe your care professional went out of their way to make sure you received your usual therapy during the confinement. Or a policy maker led a local response to COVID-19 that was inclusive of the needs of your rare disease community. Or a patient advocate fought for access to a medicine on your behalf.
Perhaps you know someone who has made a film that put the spotlight on your disease and raised awareness beyond borders. Or a volunteer working at your patient organisation who put in extra hours to make sure things kept running smoothly during the pandemic.
Make your nomination or enter yourself hereby the end of September.
The award categories are:
Holistic Care Award
Young Patient Advocate Award
European Rare Disease Leadership Award
Policy Maker Award
Scientific Award
EURORDIS Volunteer Awards
EURORDIS Members Award
Company Award for Innovation
Company Award for Patient Engagement
Company Award for Health Technology
International Media Awards
Lifetime Achievement Award
You can also see previous awardees for inspiration.
The EURORDIS Black Pearl Awards 2021 will be presented during a virtual awards ceremony on Wednesday 24 February 2021, held to mark the occasion of Rare Disease Day 2021.
More information about how you can attend the virtual ceremony and networking event will be added here in the coming weeks.
Questions regarding the nomination process? Contact Martina Bergna, EURORDIS Events Manager: martina.bergna@eurordis.org.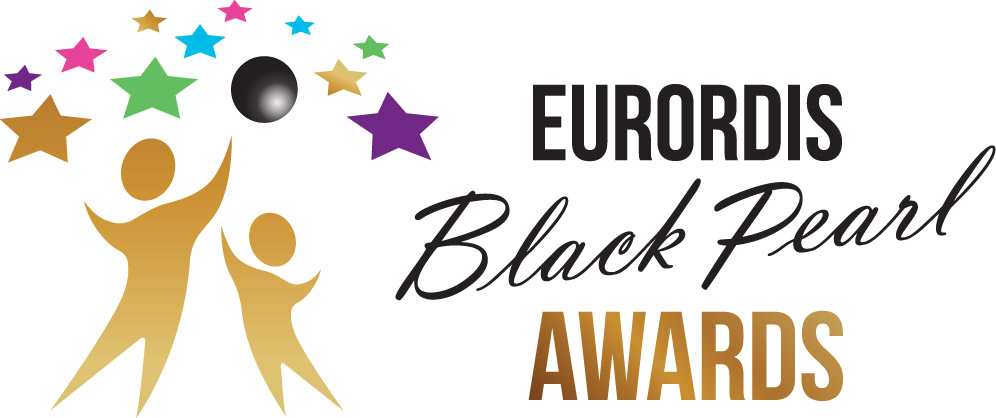 EURORDIS is also delighted to launch a refreshed version of the Black Pearl Awards, bringing it in line with the Rare Disease Day colours.
---
Eva Bearryman, Senior Communications Manager, EURORDIS