First IRDiRC conference moves forward international rare disease research collaboration
April 2013
---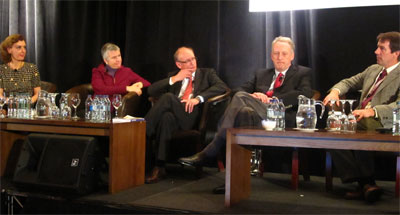 The International Rare Diseases Research Consortium (IRDiRC) launched in April 2011 at the initiative of the European Commission and the USA's National Institutes of Health to foster international collaboration in rare disease research. The IRDiRC brings together researchers and organisations investing in rare disease research to achieve two main objectives: deliver 200 new therapies for rare diseases and means to diagnose most rare diseases by the year 2020.
The first IRDiRC Conference was held in Dublin, Ireland, on 16-17 April 2013, organised by the European Commission in association with the Irish Presidency of the Council of the European Union. Gathering over 400 rare disease stakeholders from around the world, the conference kicked off with a plenary session dedicated to opportunities and challenges for international partnerships and collaboration in rare disease research before breaking out into three specific topic tracks: Therapies, Diagnostics, and Interdisciplinary approaches. The experience and views of patients were woven throughout the agenda.
Avril Daly (Vice President of EURORDIS and President of Genetic & Rare Disorders Organisation, Ireland) offered the patients' perspective during the Diagnostics Track session The Depth of Rare Diseases, which explored the impact of undiagnosed diseases on patient care and looked at initiatives to diagnose the 3000+ rare conditions for which no cause has been found to date. Avril illustrated the path of patient-led research from diagnosis to cure development by introducing past and ongoing challenges of research projects for retinal diseases in Ireland.
EURORDIS Therapeutic Development Director Maria Mavris brought the patients' viewpoint to the Facing the Challenges session, which considered ethical, economic and political questions related to IRDiRC research, including incidental findings and data sharing. Maria showed how patients face the challenges by their close involvement in all stages of research and therapy development.
In a track session focusing on Regulatory Dialogue to Optimise Orphan Drug Development, EURORDIS Chief Executive Officer Yann Le Cam called on regulators to adopt a Declaration on Regulatory Flexibility for orphan drug approval: "We need the regulatory agencies on both sides of the Atlantic to engage in a policy that clearly defines more flexible pathways for the development of orphan medicinal products. This is crucial to accelerate patient access to therapies."
A number of elements were identified as critical to reaching the IRDiRC goals: dialogue between all stakeholders and at all stages of clinical and scientific development; flexibility – from regulators and other actors; data sharing; and research and financial collaboration. The first IRDiRC conference served to build momentum and generate enthusiasm. Possible collaborations between stakeholders are already being explored.
---
Author: Louise Taylor, Communications and Development Writer, EURORDIS