How media is breaking isolation and fostering community for people living with a rare disease: meet the 2022 Black Pearl Awardees
février 2022
---
The Black Pearl Awards shine a light on the remarkable efforts to build a brighter future for everyone living with a rare disease. In the aftermath of last night's ceremony, we want to continue the celebration by focusing on this year's incredible recipients of the Media and Social Media Awards!
Social media has undeniably become an extremely powerful tool, with the potential to be harnessed to connect people from completely different backgrounds and countries to share their stories and experiences. The Black Pearl Social Media Award is a brand new category, recognising the potential of social media to bring the rare disease community together. The public vote is in and this year's winner is Serbian mother-daughter duo, Milica and Noa, better known as @my.baby.noa!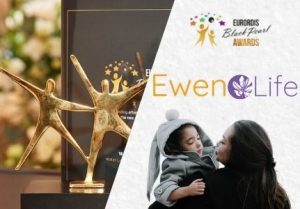 This year's Media Award goes to the organisation which has ventured outside of anything done before, EwenLife, for the creation of the EwenLife Platform, dubbed a 'Netflix for rare diseases'! This video streaming service was created by EwenLife's Estelle Dubois-Vignal, in order to break isolation and forge bonds of solidarity amongst the rare disease community.
All of us from France, Switzerland, Belgium and Canada have been fighting loneliness endured by rare disease patients and families, since we believe it is as challenging as the rare disease and disability itself." – Estelle Dubois-Vignal, EwenLife
Confronted with her son's and her father's diagnoses, Estelle decided to set up this on-demand video service, just like YouTube or Netflix but for people living with a rare disease. It enables them and their families to break through the isolation frequently faced by those living with rare conditions. Finding a community close to home can be extremely difficult, but this platform provides a safe space to foster camaraderie with other individuals in similar situations, with an abundant sense of optimism in the interviews, seminars, web series and filmed testimonies available on the platform.
"We decided to fight this loneliness in an innovative way, so we created our EwenLife video streaming platform." Says Estelle. "With the help of patient associations, we try to gather and select by rare disease already existing videos. We're producing very practical patient stories of families and professionals who share their advice and best practises to live better with a rare disease in everyday life. Because we believe that peer helping is as important as research when it comes to rare diseases."
And what about our social media stars? Milica and Noa document their journey on social media to « make you feel loved, to make you understand life through someone else's eyes, to give you hope and to inspire in one way or another". Noa was born prematurely at 26 weeks, weighing only 700 grams. Due to complications after her birth, she faced 3 brain bleeds, which developed into an extreme Hydrocephalus leaving 80% of her brain damaged. So far, 9 year old Noa has endured 18 brain surgeries, received other diagnoses due to hydrocephalus, including severe epilepsy and cerebral palsy, and around 10 more diagnoses, giving her less than 1% chance to live. Despite this, Noa is an extraordinarily strong girl and she has never let her rare condition hold her back. Defying all the odds and now at 9 years old, this incredible little girl is almost walking, and although she cannot yet speak she can communicate in her own way with gestures.
Milica, Noa's mother, has used her platform as a force for good; a space for positivity and optimism to use her situation to educate and raise awareness to what life with a child with special needs is like. Noa's story inspires everyone who hears it, and Milica will continue to share her story until she "finds her own voice and continues to inspire others with her own words".
A huge congratulations to Milica, Noa and the team behind the EwenLife platform, for your incredible dedication to bringing together a community of people living with rare diseases, for sharing your stories and your enduring positivity so that no one living with a rare condition has to feel alone.
---
By Clara Maddison, EURORDIS Digital Communications Intern