Pushing for Improved European Policymaking: An Interview with Kateřina Konečná MEP
Agosto 2023
---
As we approach the 31 August deadline for nominations for the 2024 EURORDIS Black Pearl Awards, we have been catching up with some of our past Black Pearl Awardees.
In a conversation with MEP Kateřina Konečná, who represents the Czech Republic within The Left group in the European Parliament, we delve into recent EU policy strides on rare diseases, the effect of increased living expenses in Europe, the outlook for European Reference Networks (ERNs), and improvements to mental well-being among the rare disease community.
---
In 2021, Kateřina Konečná received our prestigious EURORDIS Policy Maker Award in Brussels, she fearlessly advocates for healthcare policies, unafraid to voice strong criticism of EU leaders. When the European Commission's proposed revisions to the general pharmaceutical legislation faced delays in March, Kateřina labelled the situation as "utterly unacceptable".
As MEPs begin the process of scrutinising and amending the pharmaceutical reforms, Kateřina leaves no doubt as to the improvements that she believes need to be made, particularly regarding the inequalities in access to medicines between EU Member States.
"There are constant, huge differences between Member States, both in when the drug is launched on the market, which can vary from months to years, and in what is and what is not reimbursed due to the huge prices of these innovative drugs."
While EURORDIS largely welcomed the Commission's proposals in April, Kateřina's criticisms of the Commission's proposals to reform the pharmaceutical legislation are very strong as she regards them as not going far enough.
"I am very disappointed that the legal framework for the joint procurements of orphan drugs at the EU-wide level was removed from the pharmaceutical package at the last minute," says Kateřina. "It is a huge mistake, which we will try to correct during the discussion in the European Parliament. In my opinion, only joint procurements of these drugs will reduce their price and increase their availability."
"Some of the cosmetic changes proposed in the package will help a little with availability and market entry, such as variously designed patent incentives for innovative drug manufacturers," Kateřina acknowledges, but she believes that such proposed changes "will not help with the price of these super expensive drugs."
Kateřina, who leads the Communist Party of Bohemia and Moravia (KSČM) in the Czech Republic, has sought to advance the rare disease cause in Europe throughout her career, and she continues to address various public health issues as part of the ENVI Committee (Committee on the Environment, Public Health and Food Safety), including the implementation of a comprehensive approach to rare diseases and achieving equitable access to healthcare across Europe.
Kateřina was also a significant contributor to the adoption and negotiation of the EU4Health programme, and she continues to work with her colleagues to protect the EU funds allocated to the development of the ERNs – a challenge, she admits, considering the reticence of Member States to engage with the question of increasing budget revenues or expanding the EU's healthcare powers.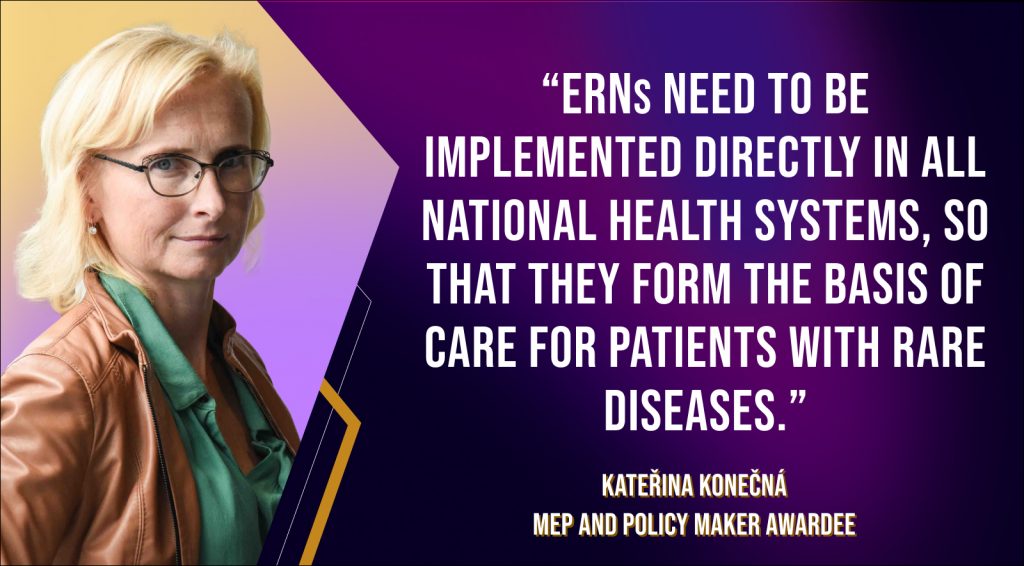 As a member of the European Parliament Coalition for Mental Health and Wellbeing, she also strives towards the adoption of a comprehensive plan for the improvement of mental health in Europe.
Following the publication of the European Commission's mental health strategy, EURORDIS stated that one of the strategy's shortcomings was its failure to explicitly recognise people living with a rare disease as a vulnerable population with regard to mental health, despite this population experiencing exceptional strains to the psychological wellbeing.
She emphasises that improvements need to be made, however, describing as "half-baked" the Commission's launched approach.
"In my opinion, the Commission is once again running a large advertising campaign that will have a limited impact. It lacks money, real commitments to clear goals and a timeline to achieve them. However, it's still better than anything we've had so far, so I try to perceive the whole thing rather optimistically."
"Mental health care is getting worse and worse across the EU. In many Member States, investments in the education of doctors and healthcare personnel, as well as in the development of infrastructure, have been neglected."
"We should secure sufficient financial allocations, raise awareness and ensure proper implementation in the Member States."
Kateřina is outspoken in her criticism of the response to the rising cost of living crisis across Europe, as the EU sees some of its highest inflation rates in years. Inflation – which had reached 17% in Kateřina's country of the Czech Republic after Russia's expanded invasion of Ukraine – has been particularly challenging for those living with rare diseases, as the rapidly rising costs of medical treatments have left many unable to afford the care they desperately need.
"Patients fight every day with the increased price of vital medicines that they have to take. The poor economic situation makes rehabilitation, mental healthcare or the necessary social care that these patients need less available for them," says Kateřina.
"What can we do? Don't support the rich but dedicate resources to those who need them in a crisis. In my opinion, the only thing missing is the will to do that."
Kateřina won our Policy Maker Award in 2021 for her outstanding work in championing the rare disease cause in Europe.
"For me personally, it was a confirmation that my work has a real impact on the lives of patients with rare diseases," she reflects. "Moreover, it came at the right moment, when we were dealing with important new healthcare legislation."
"You know, these various awards are quite positively noticed in Brussels, and as a politician, it increases your credit in negotiations, and it helps you to push necessary changes for the benefit of patients."
"Colleagues are aware that you have been working on the issue for a long time, understand it and know what you are talking about. Negotiation is then easier."
"Be sure to nominate politicians as it will help them in their work for patients. However, of course, others need to be nominated – scientists, patient representatives, excellent officials, and so on. These winning nominations then help to promote the needs of patients with rare diseases."
---
Nominations are open for the Black Pearl Awards 2024!
If you know of someone like Kateřina Konečná who deserves to be recognised for their outstanding work in the rare disease community, submit your nomination in just a few minutes!
---
Madison James, Communications Intern