11th Workshop, Paris: "Improving Access to Orphan Drugs for all Patients affected by Rare Diseases in Europe: EU Assessment of Clinical Added-Value of Orphan Drugs (CAVOD)"
---
11th Workshop of the Eurordis Round Table of Companies:
"Improving Access to Orphan Drugs for all Patients affected by Rare Diseases in Europe: EU Assessment of Clinical Added-Value of Orphan Drugs (CAVOD)"
December 11th, 2009
Paris, France
Following the outcomes of the EU Pharmaceutical Forum in 2008,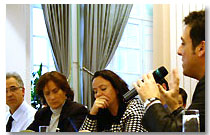 the Commission Communication on Rare Diseases (November 2008) and the EU Council Recommendations on Rare Diseases (June 2009), this meeting provided the opportunity for all stakeholders to discuss the EURORDIS and the EBE(EFPIA)/ EuropaBio proposals on how to move towards the practical implementation of an effective and realistic procedure for the evaluation of the clinical added-value of newly authorized orphan medicinal products (CAVOD). During this meeting, an agreement was reached on the nature and specific objectives of the CAVOD report, as well as on the possibility of setting up a Working Party in charge of the CAVOD report at the European Medicines Agency level.
Participants: 63
Key feature: first time that all the actors concerned by HTA in Europe were together to discuss a new innovative approach for Orphan Medicinal Products that could benefit all parties.
Proceedings

For ERTC Members only, this document is password protected. If you want to become a member, find out more here or contact Anne-Mary Bodin, Operations Assistant.

 

March 2013