13th Workshop, Paris: "Patients' Access to OMPs, Innovative Pricing Schemes and National Measures in a Global Financial and Economic Crisis Environment"
---
13th Workshop of the Eurordis Round Table of Companies:
"Patients' Access to OMPs, Innovative Pricing Schemes and National Measures in a Global Financial and Economic Crisis Environment"
December 13th, 2010
Paris, France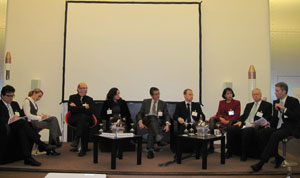 Attracting a larger audience than usual, the topic of this workshop was timely in a global financial and economic crisis environment, with additional pressure on national healthcare budgets. In a context of promotion of national plans and strategies on rare diseases in all the European Member States, the development of new and more appropriate measures to improve access to Orphan Medicinal Products has become a priority.
During this workshop, the results of two surveys on patient access to orphan drugs were presented and the crucial need for an early dialogue and a coordinated EU approach were discussed, to aid patients' access to Orphan Medicinal Products.
Participants: 86
Proceedings

For ERTC Members only, this document is password protected. If you want to become a member, find out more here or contact Anne-Mary Bodin, Operations Assistant.

 

March 2013