January 2014
20th ERTC Workshop, Brussels: "Unlocking Europe's Potential in Rare Disease Therapies"
---
February 26th, 2014
A 10 Year Anniversary Workshop!
Brussels, Belgium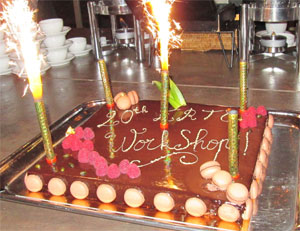 The 20th ERTC workshop explored the ambitious overarching theme of "Unlocking Europe's Potential in Rare Disease Therapies" between now and 2020 – celebrating ten years of dialogue and collaborative efforts between patient advocates, industry, regulatory agencies and national competent authorities to move forward the development of treatments for rare diseases. The focus was on the research agenda of the new EU Framework Programme Horizon 2020 and the synergies between the European Medicines Agency, the Innovative Medicines Initiative 2 (2014-2020), industry, patients, and science, in order to make sure that the momentum is sustained and new opportunities are optimised. The 90 participants discussed how each partner has a vital role to play in paving the way for new treatments development – industry, policy-makers, regulators, patients, and academia. Over the past ten years, the twice yearly round tables have regularly tackled the key issues that can unblock bottlenecks and advance real solutions for more, safe, efficient, effective, affordable, accessible therapy development.
Participants: 90
* For ERTC Members only, this document is password protected.
If you want to become a member, find out more here or contact Anne-Mary Bodin, Operations Assistant.