November 2020
ECRD 2020 Executive Summary
---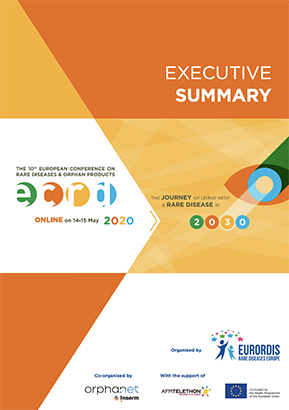 For the first time ever, the European Conference on Rare Diseases & Orphan Products 2020 was a fully virtual event.
An unprecedented success, 1,500+ people from 57 countries registered to attend ECRD online.
At a moment in history when people have experienced strong feelings of isolation, the event offered a timely opportunity for conference participants to come together and connect online with members of the rare disease community around the world.
Based on the work carried out through the ongoing Rare2030 Foresight Study, ECRD brought together patient advocates, industry representatives, regulators and healthcare professionals to discuss how to build a better future for people living with a rare disease.
Through a custom-built platform, participants were able to attend from the safety of their own homes and participate in 29 sessions with 100+ speakers, chat with fellow attendees and participate in 'meet the speaker' sessions.
A huge thank you to ECRD attendees for joining, contributing to such high quality and productive discussions, and for sharing positive feedback of their ECRD 2020 online experience.