Rare Disease Day: The 2013 Campaign is launched!
November 2012
---

100 days to go till Rare Disease Day! Now is the time to get ready and start implementing your plan to raise awareness of rare diseases in the days leading up to Thursday, February 28. On and around this date, the rare disease global community is invited to join forces to put the spotlight on rare diseases and the millions of people affected by them.
In its sixth year, Rare Disease Day will seek to draw attention to the importance of Solidarity in the field of rare diseases. This year's slogan "Rare Disorders without Borders" reminds us that fighting diseases which affect small populations in each country and for which expertise is scarce and scattered requires cross-border cooperation.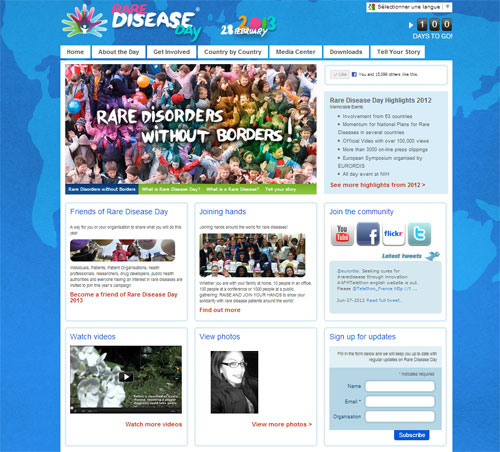 The Rare Disease Day 2013 website is being launched today! It provides general information about the campaign, gives ideas of how to get involved, provides common tools for download and allows patients to share their story by uploading photos and videos. It will also include a calendar of national and local events that will be expanded as more countries sign up closer to the day.
The logo, banner and an information pack are now available in Downloads. The poster will be available soon and as will be this year's official video. The communication materials should be disseminated as widely as possible. You can adapt them and translate them as needed.
The website will also serve to call for sympathisers from industry, public authorities, research and others to become a Friend of Rare Disease Day and show their support.
The Joining Hands action will be continued and upgraded this year. Whether you are a family, 10 people in an office, 100 people at a conference or 1000 people at a public gathering, upload a photo raising and joining hands to show your solidarity with rare disease patients all over the world.
As in previous years, we encourage you to join the conversation on Rare Disease Day social media and share with your members, friends and contacts. The Rare Disease Day Twitter page, Flickr gallery, YouTube channel and Facebook page – with more than 15,000 followers to date – are all excellent channels to create a buzz around Rare Disease Day!
Questions? Comments? Send us an email at rarediseaseday@eurordis.org
If you want updates on the campaign, sign up to the Rare Disease Day mailing list on the bottom right hand corner of the home page.
Visit us now on www.rarediseaseday.org!