June 2021
Share your reason for European action for rare diseases
---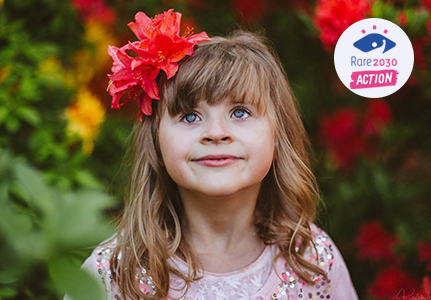 EURORDIS-Rare Diseases Europe is calling on the rare disease community to join the #30millionreasons campaign for European action on rare diseases, following the two-year EU backed Rare 2030 Foresight Study.
EURORDIS-Rare Diseases Europe, National Alliances and 962 member organisations have launched the #30millionreasons campaign calling for a European action plan on rare diseases to improve the life of every person living with a rare disease in Europe.
A multilayered campaign targeting patients, policymakers and the rare disease community at large, its main objective is to garner support from EU Institutions and EU Member States, in particular those with upcoming EU presidencies to call for a new policy framework. To drive meaningful change across Europe, EURORDIS needs the support of National Alliances, its membership and all of its stakeholders to carry the message. Introduced by the European Commission, a European action plan would also support non-EU Member States, particularly helping guide their national plans and strategies and align their policies with shared objectives across Europe. Consequently, this would improve the overall quality of life of people living with a rare disease, stop people losing their lives too young from rare diseases and make Europe a global leader in rare disease innovation.
The #30millionreasons campaign is a platform for public, civil society and private sector, academia and policy makers to share their reasons and raise awareness for coordinated European action in the area of rare diseases.
The success of the campaign will be measured by the level of support for an updated, integrated and goal-based plan paving the way for the next generation of rare disease policy at the European and national levels. For this reason it provides all interested parties with an advocacy instrument to articulate a shared vision for a more inclusive and sustainable future and advance the rare diseases agenda within their local and national communities.
The campaign resources include:
"Addressing unmet needs and inequalities is critical to realising the full potential of the 30 million people with rare diseases in Europe," – Anna Kole, EURORDIS Public Health Policy Director said. "We need to show the collective drive of the rare disease community to set out why we need a cohesive strategy at the European level right now. The Rare 2030 Foresight Study showed us that only through active design of new policies will we reach our community's goals. Working together, we can make this difference".
Collectively, we have #30millionreasons for Europe to take action. Whether you are a doctor, researcher, policy maker, caretaker or person living with a rare disease, take five minutes to share your reason for a better future for everyone living with a rare disease.
The purpose of European action for rare diseases
While only 6% of rare diseases have curative treatment, every fifth person living with a rare condition expects to be cured of their disease by 2030. This shows that the rare disease community has high hopes for far-reaching legislative action at the European level. Consequently, not only would it increase investment in research and development of orphan medicines and facilitate patients' access to high-quality health care, but also promote inclusiveness, reduce inequalities and guarantee human rights.
Following a two-year foresight study, a Rare 2030 recommendations formed the basis of a call for a fundamental policy shift that would update the current policy framework, move it to a goals-based plan and ensure to celebrate and protect the individual rights of every citizen. They provide a common approach to better preparing the future of rare diseases across all policy areas including the main recommendation for the adoption of a new European policy framework.
Actions at national level alone or legislative changes in specific areas are not enough. We need a European collective and coherent strategy for rare diseases, spanning different policy areas, to bring EU Member States' commitment to rare diseases, followed by countries in 'wider Europe', under a common umbrella and mark a step forward in the post-COVID world. Not only will it align European states towards the same measurable goals to ultimately improve access, quality of life and social inclusion, but it will also contribute to the United Nations 2030 Agenda for Sustainable Development.
When such action is taken depends on you. Although the Commission is in the position to initiate the process, it relies heavily on the opinion of the Member States to initiate any policy proposal or revision. All of us, as a community, need to speak up and voice our concerns and aspirations for the next decade. The more reasons we share and policy makers we reach out to, the more chance we have to see the first European action plan for rare diseases approved by the European Commission before 2023.
We need you to advocate for a European action plan on rare diseases. Will you share your own reason for such European action on rare diseases with Ursula von der Leyen, President of the European Commission? Take action now!
---
Stanislav Ostapenko, Communications Manager, EURORDIS
Traducteur : Trado Verso
Übersetzer: Peggy Strachan
Traductor: Conchi Casas Jorde
Traduttrice: Roberta Ruotolo
Tradutores: Ana Cláudia Jorge e Victor Ferreira
Перевод: Talkbridge