October 2010
Angelman Syndrome
---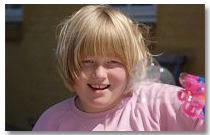 Cecilie seems to have normal activities for a 4 year-old: this smiling blond, blue-eyed girl watches TV (she loves Rowan Atkinson in his role as the clumsy Mr. Bean), likes to feed the ducks at the lake close to her home near Copenhagen and says a few words (of which the most important are yes and no). But Cecilie is 12 years old and suffers from Angelman Syndrome, a complex genetic disorder that primarily affects the nervous system. Characteristic features of this condition include developmental delay, intellectual disability, speech impairment, and problems with movement and balance.
Cecilie was born very small, about 2.5 kg. After her first birthday, a physiotherapist, and later a speech therapist, began visiting Cecilie for regular exercises because she was not walking and had difficulty speaking. But still, we did not worry much because we thought that her small size and weight at birth was a disadvantage and that eventually she would catch up," recalls her mother, Jane Villemoes. But Cecilie did not catch up and before her fourth birthday she was diagnosed with Angelman syndrome. Jane and Peter had never heard of Angelman syndrome before, let alone rare diseases. "We couldn't wait to get home after the diagnosis to search the Internet. We found the Danish Angelman association and read everything," remembers Jane. Jane would learn later that, although Angelman syndrome is generally caused by a spontaneous gene mutation, her family has a very rare case of genetically inherited Angelman – another member of her family has been diagnosed since.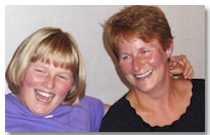 Most patients suffering from Angelman syndrome have great difficulty sleeping. Cecilie's sleep has improved a lot, even though she does sometimes wake in the night. "She will just fall asleep again in my bed. I must admit that education at night, about where to sleep… is not my priority. So she comes to my bed and she sleeps and I try to sleep," says Jane. But let's take a wild guess here: many mothers do the same! Especially working mums like Jane who is a sales coordinator.
Cecilie goes to a special school. There are only about 100 children at the school. There are no specific amenities for Cecilie, but the school is dedicated to differently handicapped children. For example, everybody communicates in sign language as well as speaking. And a lot of pictures are used – that is very good for the kids," declares Jane.
Jane Villemoes is the newly elected president of the Danish Angelman Organisation (ANGELMANFORENINGEN), after acting as a board member for 3 years. The association was created in 1995 and totals 70 families as members. "We have different activities for the families, weekends and summerhouses. There's a weekend without the kids, where we 'spoil' the parents a bit (a good hotel, good food and different experts to learn from). We also arrange a day for teachers, educators etc., where we inform and educate about Angelman syndrome, exchange experiences, and help people in daily contact with our kids to better understand them." These meetings also help Jane to deal with Cecilie's syndrome. "It is unbelievable how much a good conversation with another parent can motivate me. Because there, in front of me, is someone who completely understands what is it to live with Angelman syndrome.
Cecilie is doing well these days. She loves her school and Mr. Bean. "She is one of the rare Angelman children I know that can say a few words, and it is possible to understand her pretty clearly when she signs, talks and uses body language, even for people who do not know her," says Jane Villemoes. But the greatest fear for Cecilie's mother remains the future. She says, with the uttermost and heart-breaking sincerity, "I hope that there will be a good and nice place for her when she leaves home, that there will be nice people around her who will take good care of her, especially when we – her parents – are not here anymore. That some nice people will bring her birthday presents, bring her home for Christmas, and take her to see places that will bring her joy. To be totally honest, I hope that my daughter will die before me, so that I can die and not have to worry about my daughter. I know it is a very strange wish, but I cannot imagine it the other way around. It is a very brutal thing to say – and I hope that I will change my mind as the years go by."
---
Author: Nathacha Appanah
Photo credits: © Jane Villemoes
This article was first published in the November 2010 issue of the EURORDIS newsletter