Carpe diem – Noémie's story of living with amyotrophic lateral sclerosis
June 2019
---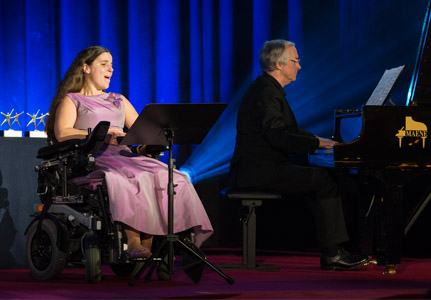 Mother of four Noémie was diagnosed with the motor neuron disease amyotrophic lateral sclerosis (ALS). Born in Luxembourg, she studied classical and lyrical singing at the Music Conservatory of Luxembourg and at the Conservatoire National Régional de Nancy. She is a recognised opera singer (soprano).
She gave an unforgettable performance and inspiring speech at the 2019 EURORDIS Black Pearl Awards.
Here Noémie tells her story from diagnosis to living with ALS:
Getting a diagnosis in Luxembourg was a lengthy and difficult process as there are no specialised centres or hospitals for motor neuron diseases like ALS. I had to be very patient, which I am not normally!
Everything started in 2013. My right leg had a sort of stiffness and weakness. After a few months it was so bad that I had to walk with a cane. One year later I had the same problem with the left leg and walking became even more difficult. I had to start using crutches and when my arms began to weaken too I needed an ambulatory (a walker).
Then in 2017 the muscles in my back, neck and face began to weaken too. I was devastated that I couldn't stand up straight anymore. Standing, walking or even sitting in a normal chair was impossible and since then I have had to use an electric wheelchair.
Since 2018 I have breathing problems and need non-invasive ventilation (BPAP) during the night. My current lung function is really not good and I have started having problems with swallowing too. Recently , I had to have a feeding tube and due to my bad lung function, I had to stay a few days in hospital and in the ICU.
How is my life with a disease like ALS? Well it's certainly not the same life as it was before. But my life now is not impossible or really bad. I can't hike through the mountains or ride on horseback or ski in the Alps, but my electric wheelchair allows me to go walking with my dogs, my children or my husband, even if I am not too speedy. I have been lucky that there is slow progression of the disease.
Singing is and was always my great passion. It was always my dream to become an opera singer and I am really happy that ALS has not yet taken away my voice. I can still sing and perform. The reality is that I don't know when this will change but I am glad to be able to accept invitations to perform at events like the Black Pearl Awards. I also organise charity concerts in Luxembourg to collect funds to support ALS patients.
Of course my future with ALS scares me a lot. The most terrible thing for me will be to lose my voice. That's why I don't want to look back at what I have lost and I also don't want to look too far into the future; I am living now in the present and for now I can still sing. Two expressions are every important to me – the first 'Carpe diem' (Seize the day) because I live now in this moment and every single day counts for me. The second is to 'never give up' because almost everything is possible when you have the strong will or the burning ambition to start and finish a project.
I tell my family I will never give up because I still get a lot of pleasure and happiness from life as well as a lot of precious moments with them and my friends.
For me ALS is not the end yet… Carpe diem and never give up.
---