Duchenne Muscular Dystrophy: Misko, a case study
June 2011
---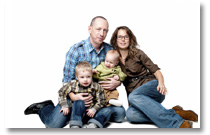 A few months following Misko's birth in January 2007, a blood test revealed that his liver enzymes were elevated but his parents did not consider it extremely serious. "For us it was something we had to investigate in order to eliminate it. I never thought that our son might suffer from a debilitating disease," recalls Andrea, Misko's mother. Eventually the baby boy was diagnosed with Duchenne Muscular Dystrophy, an inherited disorder that causes rapidly progressive muscle weakness and wasting. It is linked to a defective gene for dystrophin (a protein in the muscles). However, it does occur in people without a known family history of the condition.
When Misko's parents started to research the disease, they found nothing in their native language, Hungarian*. From this inequality, sprouted the idea of creating a foundation. "Hungarian families facing the devastating diagnosis of Duchenne Muscular Dystrophy (DMD) have very limited access to information about the disease, other than the condition is incurable, their child will be wheelchair-bound by the age of 10, and he will most likely not live past his 20th birthday. This, despite the fact that, thanks to patient organisations and researchers worldwide, there is a great deal of information available in other languages," says Andrea. Created in 2008, the aim of the Misko Foundation is to make Misko's life as "ordinary" as possible, while searching for a possible cure, together with other parents. The foundation would like to raise the funds necessary for Misko to receive the best possible care available.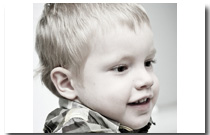 "Through Misko's example, the foundation aims to demonstrate how to reach the best results throughout the progression of the disease and what impasses to avoid. We document the events of Misko's life and publish them regularly both online and in print," relates Andrea. "Our organisation is also committed to advising parents of children affected by DMD and finding experts that can help us in this, either by working directly for the foundation or by serving as advisors." In addition, the foundation's goal is to provide information, best practice examples and useful advice to parents with children faced with the same disease.
The Misko Foundation has many on-going projects, among which is the research of far-eastern medicine. "Traditional Chinese medicine is successfully combined with western medical approaches to treat various conditions. Chinese doctors are often successful in cases where western medicine fails to present results. We want to know why. In Japan, according to statistics, life expectancy of DMD patients is probably the highest in the world. Our foundation plans to extend a grant to a PhD student or researcher wishing to investigate at a Japanese university or research centre the methods used in Japan to treat DMD. We hope that this research will shed light on the currently mysterious reasons for this difference in life expectancy."
Misko's life is not like a regular four-year old's. He goes to a special kindergarten where he can receive the necessary attention; he has hydrotherapy, physiotherapy, passive yoga massage, a daily 90-minute electrotherapy session; at night-time, he wears a KAFO (Knee-Ankle-Foot orthosis) which is very uncomfortable; he takes dozens of pills daily and has a special menu. "Misko is clever and cooperative. He understands that there are certain things that are part of his daily routine," confides Andrea.
---
This article was first published in the July 2011 issue of the EURORDIS newsletter
Author: Nathacha Appanah
Photo credits: © Balint Hrotko