Dysmelia: Swedish Thalidomide victim
August 2009
---
Portrait of a European militant: Björn Håkansson, Swedish thalidomide victim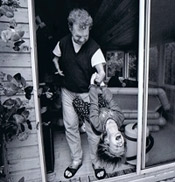 Björn Håkansson, president of the Swedish Thalidomide Society NGO (FfdN), was born in Sweden, in 1960, with dysmelia, a malformation in which he has underdeveloped arms with 3 fingers on each hand (he can use only two on each hand). His mother was prescribed thalidomide during her pregnancy to help her sleep after the loss of two elder children in a car crash. "It was not until I was two that my parents knew that it was the thalidomide pill that caused the dysmelia," says Björn Håkansson.
Few drugs, if any, have achieved the sad notoriety of thalidomide. Introduced in the late 1950s, it was prescribed as a sleeping pill or to treat morning sickness during pregnancy. It caused congenital birth defects in thousands of children worldwide (it has been estimated that more than 10000 babies were affected throughout the world, including 4000 in Europe). In Sweden, 170 babies were born with thalidomide-induced birth defects from 1957 to 1963. 118 survived.
"I think I became aware that I was different when I was 5 or 6 years old. But my childhood has been a pretty normal one. My family lived in a small village, I went to school with my childhood friends and learned like everybody else," recalls Björn Håkansson. Actually, the president of the Swedish Thalidomide Society was quite a sports guy! "I played tennis, football and came in third in the school table-tennis championship," he reveals proudly.
From 1963 to 1975, Björn made regular stays in a special service for thalidomide victims in at The Eugenia Home in Stockholm, where they were offered special training and learned how to be independent in daily life: showering, dressing up, using a pen etc. This multi-disciplined service with physiotherapists, prosthetics technicians' was put up by the Swedish government. Surprisingly, Björn Håkansson's malformations were not so much of a problem than the fact that he was left-handed! "Writing with your left hand in the 1960s was considered wrong. My teachers and the prosthetics technicians were always focussing on this point," tells Björn Håkansson. At the age of seven, he was even fitted with a prosthetic that would enable him to eat with his right hand but he buried it in the woods as soon as he got home!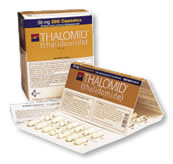 In 1984, Björn participated in the first annual meeting of the Swedish Thalidomide Society and was elected on the board right away. His father was a member of the society since 1962. Björn Håkansson was at the time working full time as an analyst in a sugar factory. In 1993, he quit his job to embark on an ambitious project of the Swedish Thalidomide Society. "We wanted to start a centre of expertise for thalidomide victims and I was the project manager for 6 years. The centre was set up in 1993 in the Red Cross Hospital in Stockholm," says Björn. Called the Ex-Center, it is still running today and welcomes Thalidomide victims, dysmelia patients, amputees from Sweden and Europe.
Björn Håkansson considers this centre to be one of his biggest achievements. "It was one of the first expertise centre set up by a disability organisation in Sweden to work on the same platform as a hospital," tells Björn Håkansson.
Another highlight of Björn Håkansson's life as a victim of thalidomide and a militant was in 2001 when the Swedish government agreed to compensate the victims of thalidomide. "They paid out 55 000 euros per person," says Björn Håkansson. Since 1970, the Swedish victims get also, twice a year, compensation from the pharmaceutical company that distributed Thalidomide. Björn Håkansson knows that, compared to other victims, Swedish ones are "lucky". "There are countries like Italy for example that never granted compensation."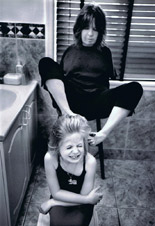 Björn Håkansson is now working on another project, initiated by the Swedish Thalidomide Society and the British Thalidomide Trust: The European Dysmelia Reference Information Centre (EDRIC). "We figured that people who worked and have knowledge about thalidomide are disappearing due to old age. Now newborns with dysmelia sometimes never meet doctors who can handle that malformation anymore. Project EDRIC will collect information – medical and historical- in order to help people around Europe," explains Björn Håkansson.
Björn Håkansson is married to Ann, a thalidomide victim herself. Their house in the South of Sweden is adapted to their handicaps. "Our home looks like any other but if you pay attention, we have special tools. In the kitchen for example, our cupboards have a button instead of a knob and with a simple push, the shelves come down. My wife has a special chair that can go high and enable her to reach things with her feet and to close the house, we have an electronic remote control," describes Björn Håkansson. It is their local community who finances theses adaptations.
Björn and Ann have a daughter, Hannah. "We explained to her how our mothers were prescribed a pill that caused our malformations. She said that she knew people were different from each other; that in school for example, there were kids with red hair and that she loved us like we were and that nothing else mattered."
 
 Online Communities For Rare Disease Patients
 
---
Author: Nathacha Appanah
Photo credits: all photos except Thalidomide © Paul Hansen/DN