Facioscapulohumeral muscular dystrophy: an entire family affected
October 2014
---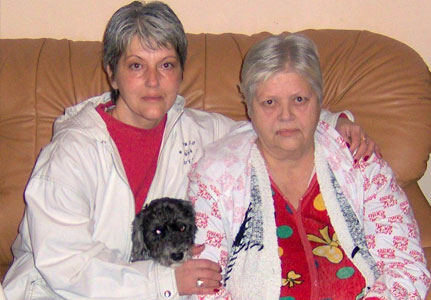 My name is Daniela Chiriac. I am 34 years old, and a member of a family of three, including my mother and my elder sister. All of us are suffering from progressive muscular dystrophy. I was diagnosed with Facioscapulohumeral muscular dystrophy in 2010, after a bad episode at work.
Unfortunately none of us escaped this irreversible illness, but we must go forward and fight until the end. The saddest part of my story is that I was the one who has been taking care of my mother and my sister since I was 14 years old, when my father passed away, but now I am unable to look after my family and after myself properly as I did for the past 16 years.
I am very much aware that this illness has no cure, but I have struggled to provide a treatment which includes many supplements, both natural and synthetic, which have helped fight the illness by slowing the progression. Fifteen years ago, every doctor told me that my sister and my mother would not live more than five more years, but here we are! My mother is 67 and my sister 47 years old at this time (2014).
Over the years, I have approached all the foundations/associations that I could find in Romania which fight against muscular dystrophy of any type. Unfortunately they did not have the funds to help us. Nevertheless, I kept fighting on my own to provide my mother and my elder sister (who is also like a mother to me), a comfortable life and I tried my best to minimise the emotional and financial discomfort, as long as I was able to work.
Complications
 
As a consequence of muscular dystrophy and also non-insulin dependent diabetes, my mother has developed many complications, including:
Muscular atrophy in legs, arms and muscles of upper and lower back
Difficulties swallowing food and periodontitis
Weakening abdominal muscles
Weak articulations
Loss of balance
Hepatic steatosis
Hypertension
Ischaemic heart disease
Diabetic neuropathy (also as a side-effect of diabetes)
Diabetic wounds
Major depression
Severe pain (the result of nonresponsive muscles, neuropathy, damage to the bone articulations and internal organ atrophy)
My sister struggles with the following:
Losing muscle strength and function
Affected joints
Respiratory difficulties
Cardiac muscle affected
Liver disorders
Pain and muscles cramps
She also wears knee orthosis to combat knee extension damage and help her walk
 
I have been encountering more of these medical problems myself since 2010, but age is still on my side and I still have the strength to look after myself, to help my mother with her hygiene needs every day, to take care of her wounds, to stay in touch with the family doctor, to bathe my sister and to help her to go out for short walks. I was forced by the situation I am going through to accept medication for depression.
Living with a rare disease in Romania
 
Medical treatments for the heart condition, hypertension, diabetes, some medication for stomach disorders, and the treatment for depression I mentioned are covered under legislation for the rights of disabled individuals, meaning by the social security system in Romania. No specific treatment for muscular dystrophy exists or is covered by Romanian legislation based on the fact that there is no cure anywhere for muscular dystrophy. In Romania, muscular dystrophy is considered a kind of "luxury illness" with which you can live "in peace," waiting for it to put you down sooner or later. There is no association/foundation fighting against muscular dystrophy in Romania with help from the state to achieve their goals (at least according to the information I have). Associations are supported by the authorities in Romania if they are accredited and provide services (based on a call for proposals according to the priorities of the Ministry of Work). In Romania, there are two organisations for muscular dystrophy. The situation is the same for other rare diseases where there is no treatment approved.
There are some treatments, taken with the common agreement of the doctors following my family's case, which gave me hope for a better life and improved the medical condition for my mother and my sister over the years. These include coenzyme Q 10 100mg; vitamin E 100mg; glutathione 500mg; Octapower; diabetes supplements; multivitamins and minerals; omegas 3 & 6; vitamin C 1000mg; calcium 500mg; magnesium; bee pollen; and the pain reliever Uteplex (made only in France) which has been very helpful in alleviating the pain. My mother also needs glucose strips but as she is not insulin dependent these are not covered by the social security insurance. Also all the special bandages and ointments and creams needed for the diabetic wounds that my mother often develops are paid for with our own income.
Our income, for all three of us, is approximately 250 Euro per month, with which we must cover everything, including treatments/supplements/glucose strips, as well as bills and monthly costs for the apartment, consumption (water, gas, electricity, et cetera).
I need real help to continue my fight, because my strength is very low at this time in my life. I feel that my hands and feet are tied and I can't make any real movements anymore. This is the reason for which I decided to tell my story, because I am powerless.