Günther's disease – Fide Mirón
August 2009
---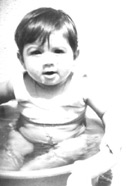 | | |
| --- | --- |
| | Fide Mirón as a baby |
Hyper positive, a fighter, very active: three aspects of Fide in her own words. Regardless of her terribly mutilated face, despite her hands being so painfully eaten away by the disease, this young Spaniard has an unfailing love of life, holidays in the Canaries and never misses a chance to party with her friends. "I consider every day to be different, special, unique. That's why I place value on everything that happens to me.
I hope that life will go on giving me strength and respect, just as I honour it with my struggle and my hopes."
Her opponent? Günther's disease, a very rare form of erythropoietic porphyria. At the age of 29, Fide believes she is the oldest person in Spain to be affected by this disease with the harsh prognosis. And it's so difficult to diagnose when only 200 cases have been identified around the world. "Unknown disease, orphan disease, anyway a forgotten disease. Very few researchers are interested in it and the pharmaceutical industry even less." Diagnosed at the age of six months through black urine, blisters on the skin and severe anaemia, Günther's disease later displayed painful and irreversible scars, destroying nostrils, cheeks, lips, ears, eyelids, fingers. With her anaemia and haemorrhage more or less stable now, Fide faces, in isolation, her chronic skin infections and the pain they cause. "They still occur sporadically, but in a more bearable form. Or else I've become resistant to pain?" jokes this unshakeable optimist.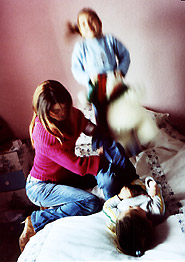 | | |
| --- | --- |
| | Fide, a young woman full of energy. |
A question of temperament, but also of education, comments the woman from Alicante. "My family always treated me as a child like any other – going to school, very popular, especially as my mutilation and physical incapacity appeared late. I notice a difference in the look of people who saw me grow up and those who meet me today. Being brought up with this state of mind is fundamental to overcoming the barrier of the illness. To live as long as possible within society and to take care of my body is doubly demanding: by fighting the injustice of the disease, I show that I'm a woman like all the others; by displaying the problem without hiding, I denounce the medical and scientific desert that surrounds this rare disease."
How can we change the situation? As an activist and member of a local organisation for disabled people (Asociación de Discapacitados de Ibi) and the Spanish porphyria patients' organisation ,Asociación Española de Porfiria, Fide would specifically like to have closer contacts with people affected by Günther's disease, using, for example, the principle of the distribution list, launched by Eurordis to promote the creation of patient communities. "I would feel less isolated and we could share our experiences for treatment. How to avoid skin lesions? What tricks have the others found to treat them? That's a really important help, especially at the onset of the disease." Another appeal to professionals: would some medical team be interested in the jaw and dental problems inherent in this disease, which impacts on health and the quality of life? And would reconstructive surgery be possible?
After attending  the European Conference on Rare Diseases in Luxembourg in June 2005, Fide retains the memory of positive people who are fighting with an exemplary solidarity.
Useful links:
European Conference on Rare Diseases
Asociación Española de Porfiria
Contact:
fidemiron@wanadoo.es
To learn more about Günther's disease:
in English or in Spanish
Author: Anne-Laure Murier
Photo credits: © Fide Miró
 Online Communities For Rare Disease Patients