Living with aortic dissection
May 2016
---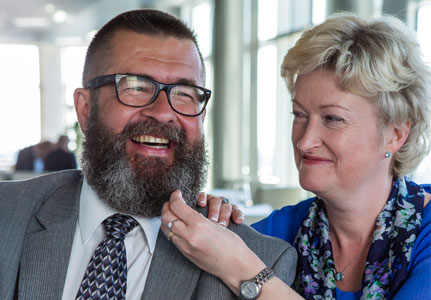 My name is Timo. In 2012, I was diagnosed with a rare disease called aortic dissection (AD) type A.
My whole world changed that day. Following invasive surgery, I now live with a partial aortic prosthesis and a permanent pacemaker that controls 99% of the activity of my heart.
Aortic Dissection is a life-threatening rare disease when the inner layer of the aorta ruptures and blood then flows between the inner and outer layer of the aorta (like a double barrel), threatening to make the outer layer rupture.
Before 2009, doctors were taught that AD was often the result of Marfan syndrome or high blood pressure. Since 2009, research has found that aortic dissection is often genetic (watch a TEDx talk of physician-scientist Dianna Milewicz explaining how she discovered this). After I got ill I did some research into my family background and found that one of my uncles had died from the same disease. I am now taking part in Dianna Milewicz's research on AD genes.
I got the diagnosis three years ago. I have recovered very well. I have to live my life carefully, with medications and regular checks of my aorta and arteries, and I will never work again. I still go to my local hospital two days a week for rehab. I take nine different medicines on a daily basis, and they make me feel OK but tired. We now have a dog and I go for a walk every day. In the beginning it was a few hundred meters, now it can be 3-5 kilometres on a good day.
In addition to medications and physical training I receive therapy. I've had help to learn how to cope with the fear of not knowing anything about the future and accepting to live life on a daily basis.
Over 6000 rare diseases have been identified. And my disease is only one of those. When people wake up in hospital they are told that their disease is rare. AD patients are told that they are lucky to have survived and the doctor then explains the disease. But when you've just had an operation it is difficult to retain the information the doctors give you on the trauma ward. Then I was sent home without any information about the specific disease, nothing on what to do in the future. This is the situation for many people living with a rare disease. This is why it is so important to create patient organisations.
Connecting with others
With the help of the hospital, a group of 17 people living with AD in Sweden and Denmark formed a Facebook group. We went on to found the Scandinavian patient association for aortic dissection and have recently become a EURORDIS member organisation. We have organised meetings in Gothenburg in Sweden. They are fantastic events where people get to meet in person and sometimes meet an AD survivor for the first time.
It's important to get organised and do something together in the community. We have printed 10,000 brochures and sent them to university hospitals in Scandinavia. I think the doctors and nurses are the key. We believe that only half a per cent of the people living with AD in the world are on social media. So we can't only rely solely on Facebook and LinkedIn to connect with people. Only doctors can find these people; that's why we are targeting them with the leaflets, so that they can give the information directly to their patients. LinkedIn has also been very helpful for finding surgeons and doctors.
Together with my friend Anders in Sweden, who also is an AD survivor, I created Global Aortic Dissection Awareness Day (19 September). I also recently took part in a RareConnect webinar on how to create an awareness day and am the moderator of the RareConnect online aortic dissection community.
Well this is my story. I can say that I love life in a more direct way now. I am thankful every day for both my family and friends and the nature that we live in, all of which was so normal before, all of which I took it for granted. I feel blessed to be alive and thankful for all the help that I've received.
---
Eva Bearryman, Junior Communications Manager, EURORDIS