Wes' Story: Living With Peutz-Jeghers Syndrome
May 2015
---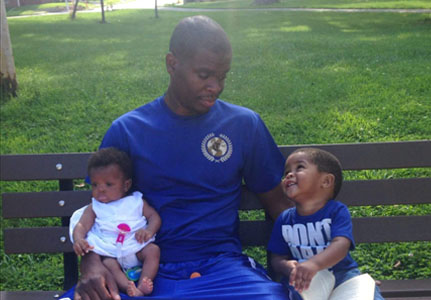 Wesleyon Zollicoffer was born a fighter. At the age of eight doctors discovered that he had inherited the genetic disease Peutz-Jeghers syndrome (PJS) from his mother. 
She was diagnosed with PJS at birth. Sadly her polyps turned into cancer and she passed away on 10 March, 2009.
Doctors initially thought Wes' abdomen pain was the result of a stomach bug but a specialist recognised the dark-colored spots and diagnosed PJS. Wes then had his first reconstructive surgery on his intestines to remove multiple polyps. Since his diagnosis, he has undergone more than 25 surgeries and procedures related to PJS.
PJS is a non-cancerous disease that causes polyps to form on the intestine, colon and other parts of the body. It is often characterised by small, dark-coloured spots similar to moles on the lips, around and inside the mouth, hands, feet, and near the eyes and nostrils. Most people with PJS develop multiple polyps in the stomach and intestines during childhood or adolescence. Polyps can cause health problems such as recurrent bowel obstructions, chronic bleeding and abdominal pain. There is also a high risk of developing cancer. The disease has a prevalence of 1-9 / 1,000,000.
The disease caused Wes deep insecurity while growing up. As a teen, he was told not to hope for children due to the risk of developing testicular cancer. As a young adult, he struggled with healthcare costs and hospital bills.
A defining moment came during his eight-week recovery from a surgery in October 2014. He was in hospital due to an obstructed bowel caused by a polyp that had grown to the size of a golf ball. He realised that the disease was really not going away. He could either live defeated or choose to be proactive and rise above it.
For Wes every day became a choice to eat healthily, do exercise, manage stress and pay attention to the signs that alert him to a change in his body. He started using online support groups and reading stories of others who are thriving while living with PJS.
At the beginning of 2015, Wes officially started the Rise to the Occasion Institute and now shares his messages on how to transition from a life of mediocrity to exceptional living. Wes and his lovely wife Candy have two children – Kaiden (2 years old) and Nyomi (10 months old).
The scars on his abdomen are a constant reminder of what he has been through but also serve as proof of what he can overcome. His mantra is "Rise to the occasion and choose to see the good in every situation".
Follow Wes on Facebook.
---
Eva Bearryman, Junior Communications Manager, EURORDIS