What can drug repurposing mean to patients with rare diseases?
July 2023
---

There are over 6,000 rare diseases, but less than 6% of them have approved treatments. Low disease prevalence, heterogeneous patient populations, the limited natural history of the diseases and high research and development costs are among the factors limiting new therapeutic options for people with rare diseases.[1]
Drug repurposing (or repositioning) consists of the identification, testing, and validation of new therapeutic indications of already existing drugs. Finding new therapeutic uses of existing medicines represents an innovative and alternative option to "classical" drug development. It can also offer various advantages over developing an entirely new drug for a given indication, such as fewer risks, lower costs, and shorter timelines. Drug repurposing is therefore an attractive and promising strategy for people living with rare and neglected conditions.
Last September, an ambitious EU-funded research initiative was launched to drive forward the repurposing of medicines in Europe. Within less than a year, REMEDi4ALL has positioned itself at the forefront of an approach to drug repurposing in Europe that listens to patients to addresses their unmet medical needs. Working closely with researchers and patients alike, the REMEDi4ALL consortium empowers patients as true co-creators of drug repurposing efforts alongside researchers and other stakeholders.
Together with Beacon for Rare Diseases, EURORDIS is leading the engagement with patients, helping researchers and all relevant stakeholders access patient expertise to support all stages of repurposing.
We talk to Claudia Fuchs, EURORDIS Drug Repurposing Projects Senior Manager, and Eve Hewitt, Scientific Projects Manager at Beacon for Rare Disease, about the opportunities drug repurposing can offer to address unmet needs and improve the lives of rare disease patients.
---
Drug repurposing and its potential for the community
Q. What potential does drug repurposing offer to people with rare diseases?
Claudia Fuchs: "Drug repurposing represents a great opportunity for people living with rare diseases. Interestingly, the urgency to accelerate the usually long approval process of drugs has become tangible for everyone following the COVID-19 pandemic. Thanks to this, policy, funding, and research attention to find and promote 'alternative' approaches such as drug repurposing is steadily growing. Accelerating these processes is a common goal and objective also shared with the rare disease community, where there is an urgent need for developing efficient treatments in a safer, faster, and cheaper way."
Over the past years, there have been notable successes for drug repurposing in the rare disease field, and about 20% of the approved orphan drugs in Europe between 2000 and 2021 were repurposed drugs.[2]
Claudia Fuchs: "There are still several barriers and systemic inefficiencies to ensure efficient and effective patient-centric drug repurposing in rare diseases and beyond. These include, but are not limited to, fragmented and siloed research, poor patient engagement, or a lack of incentives and policies to support and enhance drug repurposing. Many drug repurposing researchers lack understanding of all the substantial patient engagement needed to advance their specific project into practice."
Q. What role does REMEDi4ALL play in advancing this?
Claudia Fuchs: "REMEDi4ALL is an EU-funded initiative that brings together 24 leading European organisations and institutions with multi-disciplinary expertise to address the complexities of drug repurposing, advance knowledge in this field, and overcome the above-mentioned substantial obstacles and caveats. The overall aim is to establish a European research and innovation ecosystem that facilitates fast and cost-effective patient-centric development and access to repurposed medicines and will truly transform this field by making the process more transparent, efficient and – most importantly – more patient-centric."
---
Why patients play a crucial role in drug repurposing
There is increased recognition that including patients' perspectives and insights throughout the medicines development process results in better health outcomes and benefits for all involved stakeholders[3]. Engaging patients throughout the entire drug repurposing process – starting from the early discovery and preclinical phase, across clinical trial design and implementation to regulatory decision making and product lifecycle – is essential to guarantee patient centricity and is a major objective of the REMEDi4ALL consortium.
Eve Hewitt: "Drug repurposing uses what we know about existing drugs – and applies it in a new scenario. This means that many of the steps of traditional drug development can be streamlined so that the end goal of a drug reaching a patient in clinic is achieved significantly faster, and that when we do approach patients with a trial, we have a true insight into what they can expect when they take the medications, helping them assess whether or not they think this new treatment fits into their life in a manageable way. By working with patients from the very start when developing a drug repurposing project within REMEDi4ALL, placing our patient champions and their affiliated organisations and communities as co-creators of the drug repurposing projects, we can ensure the best outcome for all parties (a new, usable treatment!) but particularly the under-served disease communities we aim to represent."
To deliver on this mission, REMEDi4ALL has committed to undertake patient engagement activities, by bringing patient champions and patient advocacy groups to the heart of all projects.
Q. Can you elaborate on what it means to be a patient champion, and what role they will play in the project?
Claudia Fuchs: "A patient champion represents the wider patient community and closely works with the research team and the whole consortium in each project. This patient champion actively participates in regular Research Developmental Team meetings and is asked to share patients' inputs and experiences on several relevant questions, including for example clinical trial design, definition of patient-relevant clinical outcome measures, dissemination, or recruitment activities."
Q. REMEDi4ALL will have a patient advisory group (PAG) for each project that it supports. What is the role of this group?
Eve Hewitt: "No two experiences with a given condition are the same, so establishing and working with a PAG allows patients and involved parties to build a more representative range of views. This provides more robust and balanced insights into the lived experience of a given condition and allows true representation of the needs of the wider patient community.

"The PAG can discuss topics brought to them from the patient champion or the wider project team. This can span a huge breadth of subjects such as patient-centric clinical trial design, advice on recruiting and retaining patients within clinical studies, patient advocacy studies, advice on reimbursement and general feedback on how the projects are progressing and what could be done to improve this. The PAG operates as an independent voice to the patient champion and the patient engagement team."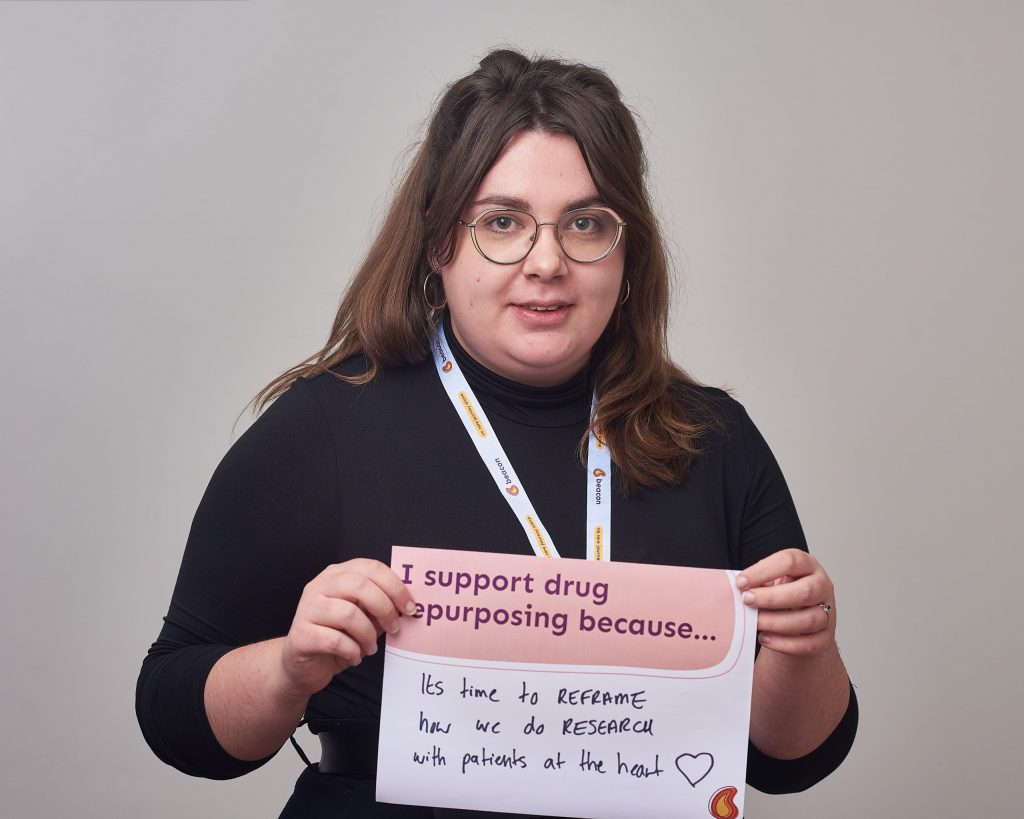 Q. What role do patient organisations, such as EURORDIS and Beacon, play in ensuring strong patient engagement?
Eve Hewitt: "Beacon and EURORDIS ensure that the entire REMEDi4ALL team are focused on patient engagement and centricity – from the pre-clinical researchers through to the regulators and health economists. Beacon and EURORDIS have a continued strong working relationship with the patient champion, PAG and other individuals involved in the patient-centric elements of REMEDi4ALL projects. It is our job to ensure the patient representatives feel empowered and have the tools to engage in high-level discussion with the other stakeholders in the drug repurposing team."
Q. How can people get engaged in the project?
Claudia Fuchs: "The REMEDi4ALL consortium is currently developing different tools and processes to guarantee fast and cost-effective patient-centric drug repurposing. These tools will be initially tested and validated in a portfolio of 4 ambitious demonstrator projects representing high unmet medical needs in a variety of disease areas including rare and ultra-rare diseases. However, as REMEDi4ALL aims to become an enduring and sustainable infrastructure in the repurposing ecosystem, we will 'open the shop' very soon to support additional high potential and interesting drug repurposing projects."
#RaRepurposing
---
[1] Sustainable approaches for drug repurposing in rare diseases: recommendations from the IRDiRC Task Force
[2] Orphan Medicinal Product Designation
[3] The Role of Patient Involvement When Developing Therapies
---
Contact
Andrea Osvoll
Communications Manager Projects & Programmes
andrea.osvoll@eurordis.org
+33 1 56535210