March 2014
EURORDIS Awards 2014 recognise excellence in the rare disease community
---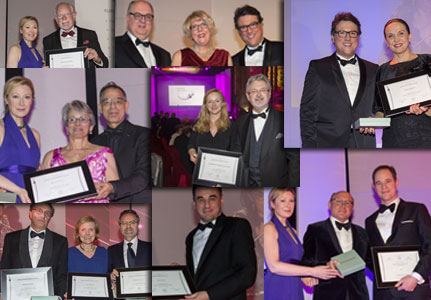 The EURORDIS Awards 2014 for excellence in the field of rare diseases were presented on 25 February in Brussels, recognising outstanding patients' advocacy groups, volunteers, scientists, companies, media, and policy makers who have contributed to reducing the impact of rare diseases on people's lives.
"Each of the 11 EURORDIS Award 2014 recipients is making a significant and unique contribution to improving access to the many different kinds of Care people living with a rare disease need and deserve. Working together, we are starting to make a real difference to the millions of patients and families throughout Europe who live with a rare disease," said Yann Le Cam, EURORDIS Chief Executive Officer.
The recipients include Dr. Marlene Haffner, who received the Lifetime Achievement Award 2014 for her immeasurable impact upon the development of orphan drug therapies, and Dr. Antonyia Parvanova, who received the European Policy Maker Award 2014 for her dedication and commitment in addressing the needs of people with rare diseases as a Member of European Parliament. The European Leadership Award 2014 was presented to Professor Guido Rasi, Executive Director of the European Medicines Agency (EMA), Professor Luca Pani, Director General of the Italian Medicines' Agency (AIFA), and Paola Testori Coggi, Director General for Health and Consumer Protection at the European Commission.
The EURORDIS Scientific Award 2014 went to Professor Hans Hilger Ropers, Director at the Max-Planck-Institute for Molecular Genetics in Berlin. A clinical geneticist, Professor Ropers has made many contributions to the molecular elucidation of monogenic disorders with a focus on eye diseases, deafness and particularly intellectual deficit.
Photographer Rick Guidotti received the EURORDIS Media Award 2014 for his efforts to raises public awareness for the beauty of difference via his beautiful photography and his non-profit organisation, Positive Exposure.
Two EURORDIS Company Awards were presented: one to Swedish Orphan Biovitrum (Sobi), for the excellence and consistency of their work in developing treatments for rare diseases and their track record of creating successful dialogue with patient communities; and the other to Orphan Europe, for their robust portfolio and strong pipeline of rare disease treatments, as well as for their committed engagement with patient organisations.
The EURORDIS Patient Organisation Award 2014 went to Allianz Chronischer Seltener Erkrankungen (ACHSE) for their instrumental role in turning Germany into one of the most committed Member States in the European Union for rare diseases in the fields of research, information, healthcare organisation and drug development.
The EURORDIS Volunteer Award 2014 went to Lise Murphy for her outstanding contribution in closing the gap between patients, health care professionals and pharmaceutical agencies, demonstrating the importance of patient dialogue; and for using her experience and patient expertise generously for the benefit of the entire rare disease community.
The EURORDIS Awards 2014 were voted by the EURORDIS Board of Directors from over 130 nominations received from the general public, EURORDIS members (rare disease patient advocacy groups from all over Europe and beyond), and EURORDIS volunteers and staff.
It's not too soon to begin thinking of potential candidates for the EURORDIS Awards 2015! In the meantime, congratulations to all of this year's exemplary recipients!
EURORDIS Awards 2014 Photo Gallery
---
Louise Taylor, Communications and Development Writer, EURORDIS