Marzo 2013
14th Workshop, Barcelona: "Mechanisms for the Implementation of the Clinical Added-Value (Relative Effectiveness) of Orphan Drugs, CAVOD"
---
14th Workshop of the Eurordis Round Table of Companies
EURORDIS – ERNST & YOUNG
"Mechanisms for the Implementation of the Clinical Added-Value (Relative Effectiveness) of Orphan Drugs, CAVOD"
May 27th, 2011
Barcelona, Spain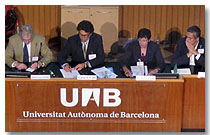 Jointly organised by EURORDIS and ERNST & YOUNG, this workshop was the final meeting of ERNST & YOUNG's Feasibility Study on CAVOD in the framework of the European Commission Tender. A high number of participants gathered to discuss the preliminary results of the work performed by ERNST & YOUNG. Enormous progress was achieved towards shaping the future of the CAVOD mechanism and a consensus reached on common proposals for a feasible assessment mechanism.
Participants: 82
Key feature: co-organised with Ernst & Young
Programme

Concept Paper

Proceedings

For ERTC Members only, this document is password protected. If you want to become a member, find out more here or contact Anne-Mary Bodin, Operations Assistant.